Throughout the development of CHiA BiRDS, great care was taken to consider health, as well as calorie aspects. The goal was to create a drink with the strongest plants on this planet, in order to give people enough strength from nature for their daily lives. But also for times with high levels of bodily, mental, or even spiritual exertion. All of this is deeply connected – even when Western medicine is slow to acknowledge it.
CHiA BiRDS -awaken the Gods. is an ORGANIC POWER DRINK that is equally well-suited for competitive athletes and people who want to relax and decompress. If the immune system is strengthened, the relaxation capacity is at its highest, as well as the motivation. Also illnesses can be avoided when the immune system is strong. "In the end, almost all illnesses begin with inflammation in the body," explains one of the world's most respected TCM doctors. Antiox, Detox, etc. are terms that are directly connected with this topic: we need to keep our bodies RAW – if we do this, there will be less inflammation foci in our bodies, because the immune system is the king of the body's defenses. Sugar, for example, is an ingredient that causes inflammation in our bodies. For this reason, the sugar content was kept as low as possible. More dangerous variations, such as artificial sweeteners, were renounced entirely. Nevertheless, we are dealing here with a convenience product, as people don't usually have the resources and time to create fresh drinks every day. Because of that, CHiA BiRDS found a compromise. Due to the necessities of preservation in the food industry, it is not (yet) possible to use the completely raw and freshly-harvested product, but it is kept as close as possible to the natural form. For this reason, raw sugar was chosen, as it is one of the least harmful forms of sugar for the human body. And hardly any of it at all.
The advantage of CHiA BiRDS is that CHiA seeds are able to cut down on the speed of the absorption of sugar into the blood. This means that the insulin level stays relatively constant and the bodily performance is barely influenced. This is advantageous, especially in sports, where the consumption of sugary drinks is often counterproductive, due to the fact that the initial sugar-high quickly disappears, leading to a dip in performance levels.
CHiA BiRDS – awaken the Gods.
# 100% natural
# 100% organic
# No artificial sweeteners
# No artificial additives
# No artificial colors
# No artificial flavours
# No artificial conservatives
# No chemicals
THE POWER OF CHiA Seeds
# CHIA superfood and powerfood of the Aztecs
# puts you in a good mood
# power food for stressed-out people
# 1.4 times more plant-based protein than eggs
# 6 times more calcium than milk
# 15 times more magnesium than broccoli
# 7 times more vitamin C than lemons
# high antioxidant content
# promotes the ability to concentrate
# regulates blood pressure: protects against heart and cardiovascular diseases
# record levels of omega-3 and omega-6 – lowers cholesterol and triglycerides
The power of green tea
Green tea satisfies with its antioxidant effect and is a genuine fountain of youth. In addition, it heightens one's ability to concentrate and is an amazing source of energy: the impact is far more effective and long-lasting than coffee or other chemical energy drinks.
#invigorates the spirit
#heightens brain power
#supports weight-loss during a diet
#helps to regulate blood pressure
#reduces stress
#anti-aging effect
#supports a healthy cholesterol level
The strengths of GINGER
# pain-relieving
# strengthens the immune system
# anti-inflammatory
# helps with muscle pain
# reduces allergic reactions, stomach problems and nauseousness
# calorie burner
# helps with migraines and menstrual pain
# stimulates brain function
The virtues of MINT
# elevates brain function
# calms the digestive tract
# cleans the blood
# fights depression
# reduces pain
# fights against bad breath
The power of LIME
# for a balanced pH level
# reduces hypertension
# enhances kidney function
# interacts positively with the nervous system
# reduces oxidative stress
# detox effect
# improves sleep quality
# reduces body odour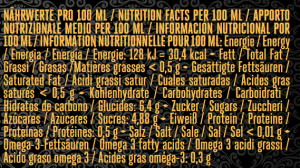 INGREDIENTS: Natural Spring Water, Organic Cane Sugar*, Organic Chia Seeds* 1.2 %, Ginger Extract*,
Green Tea Extract*, Caramel Sugar Syrup*, Organic Natural Ginger-Lemon-Peppermint Flavours together
with Other Organic Natural Flavours, CO2 (Lightly Carbonated), Acidity Regulators: Citric Acid,
Thickener: Xanthan Gum and Locust Bean Gum. Gluten-free. No Artificial Conservatives and Flavours.
Keep cool and turn upside down before opening. *Organically produced (BIO) www.organicpowerdrink.bio